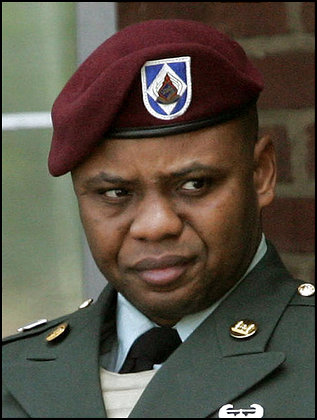 US Muslim soldier to be executed for killing his comrades
A US military jury has imposed the death penalty on a Muslim soldier who launched a fatal grenade and rifle attack on his comrades in the run up to the invasion of Iraq. Sgt Hasan Akbar, 34, quietly apologized yesterday for attacking his fellow soldiers in the early morning of March 23 2003...more>>>
East Timor protestors backed by Catholic Church demand government to step down
Several thousand demonstrators backed by the Catholic Church are continuing to confront the Government. Catholic leaders have taken an increasingly militant stand against the Government since it withdrew support for religious instruction in primary schools earlier this year....more>>>

Former Muslim appointed Dean of Jerry Falwell's evangelical university
LYNCHBURG, Va. -- The new dean of the Rev. Jerry Falwell's Liberty University theological seminary is a former Sunni Muslim who plans to turn out a hipper generation of graduates by relating to them with lyrics from rapper 50 Cent, TV's "Queer Eye for the Straight Guy" and the latest movies and film stars. Ergun Mehmet Caner cracks one-liners as easily as he quotes a Bible verse...more>>> or ...more>>> or more>>>
Evangelical groups make plans to remove liberal US judges
An audio recording obtained by the Los Angeles Times features two of the nation's most influential evangelical leaders, at a private conference with supporters, laying out strategies to rein in judges, ..."There's more than one way to skin a cat, and there's more than one way to take a black robe off the bench," said Tony Perkins, president of the conservative Family Research Council...more>>>
Radio host fired after talk about whether Pope will go to heaven
Evangelical Christian talk show host Marty Minto, who questioned Roman Catholic beliefs and entertained a caller's question about whether the late Pope John Paul II would go to heaven, has been fired from WORD-FM...more>>>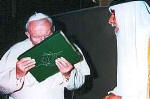 Inter-faith initiatives of Koran-kissin Pope John Paul
John Paul II was the first pope to kiss the Koran and the first ever to enter a mosque. He was also the only Pope to have met Palestinian leader Yasir Arafat and Jordan's King Abdullah, despite criticism from Israel and Jewish groups. John Paul encouraged dialogue between faiths, in particular with visits to Muslim-dominated Azerbaijan and Kazakhstan. His successor has a tough act to follow...more>>>
Vatican to rethink its approach to Muslim dialogue due to lack of benefits
After two decades of contact and dialogue with the Islamic world under Pope John Paul II, the Vatican is rethinking an approach that critics say has brought almost no benefits to persecuted Catholic minorities in Muslim countries. Archbishop Michael Fitzgerald said the next pope might more emphatically demand rights for Christian minorities in Islamic countries....more>>>
Mormons still practicing proxy baptisms for dead Jews and Popes
A delegation of five Jews met Sunday and Monday in Salt Lake City with church leaders and historians and agreed to form a committee to explore how to halt proxy baptisms ▒ the Mormon practice of posthumously baptizing non-Mormons, including Holocaust victims and other Jews....more>>>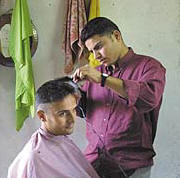 Shave and a haircut - two bullets - 12 barbers murdered in Iraq
In southern Baghdad militant Islamists are warning barbers that it is haram - forbidden - to shave men's beards or do Western-style haircuts. As many as 12 barbers have been killed, Iraqi officials say, including five in one day in late January. With little hope of police protection, most now refuse to offer the offending cuts, and have placed prominent signs in their front windows saying so....more>>>
Saudis arrest 40 Christians for praying
Saudi Arabia has detained 40 Pakistani Christians for holding prayers at a house in the Muslim kingdom, where practicing any religion other than Islam is illegal...more>>>
UN passes resolution to monitor defamation of Islam in the West
The resolution was pushed forward by Pakistan on behalf of the Organisation of Islamic Conference. The OIC pushed this resolution alleging "discrimination against Muslims in the aftermath of the September 11 attack in America." ...more>>>
Hamas' "vice and virtue" unit executes young woman in "honour killing"
Hamas has mounted a desperate damage control exercise after one of its units shot dead a 20-year-old Palestinian woman for "immoral behaviour" as she enjoyed a day out with her future husband....more>>>
UN Women's Conference Questions Link Between Islam and Violence Against Women
Yakin Erturk of Turkey, the U.N. special rapporteur on violence against women, says violations of women's rights know no religious boundaries. "Religion is used as a political tool whether in Muslim societies or Christian or Jewish or any other society," she said. "But because of the Islamophobia that has emerged throughout the world, attention has turned to Muslim countries as if there's a specificity there which promotes and perpetuates violence against women...more>>>
Muslim woman threatened for leading the first mixed-gender prayer service in Canada
Yes indeed, the fatwas are flying (I already have one from a Saudi network based in the United States, thank you!), says Raheel Raza. The Toronto Muslim community, even those who profess to be liberal, are doing what has become the norm ▒ condemning without considering, labelling without listening and judging without justice. Since the Talibanization of Pakistan, I'm well aware of stoning first and debating later...more>>>
Government of Canada gives $30 million to His Highness Aga Khan to promote pluralism in Canada and abroad
His Highness the Aga Khan today welcomed the announcement by the Government of Canada of its intellectual, institutional and financial contribution to become a partner in the new Global Centre for Pluralism in cooperation with the Aga Khan Development Network...more>>>
Viet Nam initiates conference for Asian and African leaders - strategic partnership is declared
Leaders from Asian and African countries in a declaration on the New Asia-African Strategic Partnership endorsed in Jakarta on April 23 hailed Viet Nam's initiative to hold a forum to connect the two continents...more>>>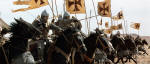 $130 million Hollywood movie about the "Crusades" upsets Muslims
▒We have Christians who think this movie is pro-Muslim and Muslims who think that this movie is pro-Christian. It will make both go and see the movie, which is positive for improving understanding,▒ actor Khaled El-Nabawy, who plays the role of a Muslim scholar in the ▒Kingdom of Heaven,▒ told Reuters. The film " Kingdom of Heaven is by ▒Gladiator▒ director Ridley Scott, depicts a 12th century Muslim-Christian battle for Al-Quds...more>>>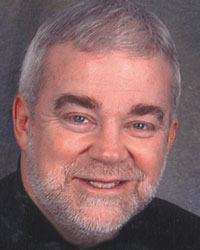 Rev. Jim Wallis author of "God▒s Politics: Why the Right Gets It Wrong and the Left Doesn▒t Get It"

Interviewed By Michal Lumsden

"I am an evangelical Christian, and I can▒t ignore thousands of verses in the Bible on [another] subject, which is poverty. I say at every stop, ▒Fighting poverty▒s a moral value, too.▒ There▒s a whole generation of young Christians who care about the environment. That▒s their big issue. Protecting God▒s creation, they would say, is a moral value, too. And, for a growing number of Christians, the ethics of war▒how and when we go to war, whether we tell the truth about going to war▒is a religious and moral issue as well....more>>> or hear an NPR interview.
"It's amazing that the amount of news that happens in the world every day
always just exactly fits the newspaper."
Jerry Seinfeld, US comedian